Most definitely the most unusual Fringe performance I have ever seen.
However, I didn't see it as such, I was part of it. Fully immersed. And wet.
Wet Sounds transformed the Adelaide Aquatic Centre deep diving pool into an art space through a deep listening experience. Audience members were participants by floating or diving in the water to hear originally composed music.
Sound travels four times faster in water than it does in the air, and is perceived by the entire body and the inner ear. Underwater, the sound is very clear and detailed. This is contrasted by the sound of the music above water. Floating on one's back with just one's ears in the water offered a third listening experience whilst hearing a blend of overwater and underwater music.
Throughout the 45 minutes, we as audience members were given free reign to dive, swim, float or just sit on the edge of the pool. Various flotation devices were available and there was no pressure to do anything except appreciate the experience in one's own way.
The individualisation of the experience was a unique aspect. Each person could go into their own world and inspired by the lighting, the sense and atmosphere was for me, quite mystical.
Looking into the depths of the pool, we discovered scenes emerging. Scuba divers performed and interacted with audience members who could dive deep enough. Closer to the surface there were mermaids swimming along as well as other artistic elements to create interest and add to the magical otherworld feeling.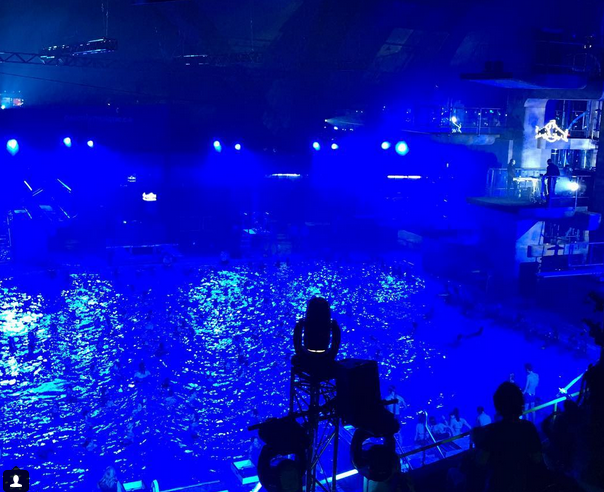 Alternating between overwater and underwater was a threshold between two different music and listening experiences and was controlled completely by the individual.
The performance could have benefited from a more animated and information-rich host. We were left a little unsure as to what to expect and what it was all about. As the session progressed, it became more apparent and participants could relax into it. We were pre-warned that the lights would come on to signal the end of the performance, which they did, but then a couple of minutes later, the full aquatic centre lights came on which totally destroyed the magical feeling. Although that was personally a little disappointing, the performance gave me a little piece of magic that has stayed with me.
Aimed at all ages from 8 years, this performance is very different. Go if you like underwater adventures, music and finding yourself in a mystical world.
Reviewed by Samantha Tipler for All Over Adelaide
4 stars
For tickets and more information:
https://adelaidefringe.com.au/fringetix/wet-sounds-af2018